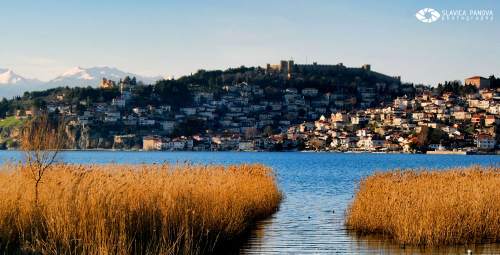 THE COUNTRY
FIGURES
| | |
| --- | --- |
| Coordinates | 42°0′N 21°26′E |
| Total Area | 25,713 km2 (9,779 sq mi) |
| Total Population | 2,050,671 |
| Density | 82,2/km2 (205/sq mi) |
| Official Language | Macedonian |
| Capital | Skopje |
| Currency | Macedonian Denar (MKD) |
| Useful Links | Official and Informal National Tourism Portal. |
FACTS:
Macedonia is a country landlocked in the heart of Balkans (neighboring with Greece, Bulgaria, Serbia, Kosovo and Albania), in the center of the once famous ancient road "Via Egnatia" (on a Europe's crossroad). It is a land of mountaintops (the 10 mountain peaks above 2000 meters and surrounding hills cover 80% of its surface) and lakeshores (the national treasures Ohrid, Prespa, Dojran, accompanied by 10 smaller natural lakes and artificial accumulations).
"Despite a history of winemaking that goes back to Roman times and romantic Mediterranean villages with Byzantine churches and terracotta roofs, Macedonia continues to be overlooked in favor of better-developed attractions in nearby Italy and Greece."
"The top ten nations in order of their friendliness to visitors from elsewhere are: Iceland, New Zealand, Morocco, Macedonia"…
"The Macedonian capital has at the same time quietly become more visitor-friendly, with a bevy of cool new hostels, upscale wine bars and bistros, and one of southeastern Europe's best club scenes. Beyond work-in-progress Skopje and the more established tourist sites such as Lake Ohrid, Mavrovo ski area and ancient Stobi, new things are happening elsewhere"...
"Skopje's skyline tells the story of this Balkan city more vividly than any history book: socialist-era apartment blocks, the minarets of Ottoman mosques, Byzantine domes, Turkish bathhouses and, most controversially, neoclassical edifices, bridges and grandiose monuments – the result of a recent construction spree aimed at bolstering national pride.
THE CITY
FIGURES:
| | |
| --- | --- |
| Coordinates | 41°07′01″N 20°48′06″E |
| Total Area | 383.93 km2 (148.2 sq mi) |
| Total Population | 42,003 |
| Density | 142.97/km2 (370.3/sq mi) |
| Postal / Area Code | 6000 / +389 46 |
| Patron Saints | Sts. Clement and Naum |
| Useful Links | Official and Touristic City Portal |
FACTS:
The city of Ohrid, is also known as Greek Lihnidos, Illyrian Desaretia, and known for the historical and geographical landmarks such as Roman Via Egnatia, Sts. Clement and Naum, Tzar Samuilo, the fascinating Churches of St. Sofija, St. Pantelejmon, St. John Kaneo, St. Naum. The events and actors have changed through time, but the city suspended on the rock, stands still, outliving it all. Its name and glory stood the tests of time, proving to be everlasting, everduring, everblooming.
"Ohrid is one of the most ancient human settlements in Europe, containing as it does Neolithic archaeological sites and others from the Bronze Age and the Hellenistic period. With its numerous prehistoric sites and its traces of the material culture of more than 5,000 years ago, Ohrid is indeed an archaeological treasury and the surroundings of the lake can be styled a magical land of archaeology. More than 250 archaeological sites with material remains dating from between the Neolithic period and the late Middle Ages have been excavated.
Built mainly between the 7th and 19th centuries, it has the oldest Slav monastery (St Pantelejmon) and more than 800 Byzantine-style icons dating from the 11th to the end of the 14th century. After those of the Tretiakov Gallery in Moscow, this is considered to be the most important collection of icons in the world"…
"The real treat for visitors is spectacular Lake Ohrid, a vast lake by whose edge perches a town of the same name the perfect place for a dreamy, and affordable, escape"…
"Beyond the lively capital Skopje, the spiritual heart is three road hours' west at Ohrid, a lovely town with a medieval castle looking over church-lined hilly streets and the lush coastline of Lake Ohrid"…
"One of the deepest lakes on the planet, with a dazzling UNESCO World Heritage site of ancient dwellings rising high above its shores, Lake Ohrid in Macedonia is a local vacation star poised for greater international acclaim"...
"Established in the year 905 by Saint Naum of Ohrid, the medieval scholar who founded monasticism in the Balkans, the first monastery was superseded in the 16th century by a structure that has stood its ground ever since. With peaceful views over the lake and peacocks strutting around, the monastery of St. Naum feels like a magical parallel universe"…
THE CONFERENCE
"Metropol Lake Resort"
TRANSPORT
The city of Ohrid is accessible by plane, by bus (through Skopje Bus Station) or by car.
Ohrid has an international airport: "St Paul the Apostle" about 7 km from city center which connects Ohrid with Belgrade, Ljubljana, Zurich, Dusseldorf, Tel Aviv, Vienna, and Amsterdam. The airport is open year round but most airlines only fly during the summer, so check with your travel agent or airline for most current information.
Also, there is a regular bus service from Skopje and the ride usually takes approximately three and a half hours.
More information can be found on GETTING TO page.